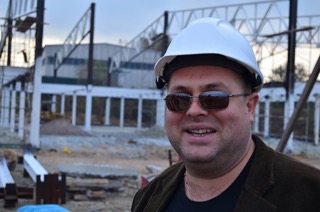 ---
Evgeny Popelnitskiy
---
Profile:
Specialist in Geomatics with 3 month's development experience in Geographic Information Systems, Digital Cartography, Remote Sensing and GPS. Extensive experience in all stages of spatial system design and implementation in a production environment.

Relevant Experience
Education:
2014 - Present: Advanced Diploma in GIS Application, Vancouver Island University, Nanaimo, BC, Canada

1991 - 1996: BSc in Physical methods and devices of Introscopy, Far-Eastern Technical University, Vladivostok, Russia

Work History:
2014 - Present: The City of Victoria, Emergency Management Agency, Trainee
Victoria, BC
Project '3D Building Model of the City of Victoria'
Identify, reformat and update relevant datasets that may be incorporated into the creation of the downtown 3D model.

Collect additional information in the field to describe building construction material, presence of fascias, number of stories and other seismically significant building attributes.

Design and build a Geodatabase and schema that allows theming of collected attributes in 3D

Report on the effectiveness of the approach, potential enhancements to the 3D model and considerations for future maintenance

2010 - 2014: Development Company 'Invest Rent', CEO, Senior Engineer
Vladivostok, Russia
Project 'TechnoPark for DNS Group'
Full control over the construction process: the development of project documentation, state examination of the project, preparation of construction documents, searching for materials and contractors, monitoring the quality of construction, the adoption of the work performed and putting into operation. Full documentary support of the construction process,

Examination of design and working documentation and land use plans. Analysis of land use management,

Planning the placement of objects on the land, the calculation of the consumption of water and electricity, as well as the calculation of emissions and sewage,

Calculation of energy efficiency for buildings designed,

Participated in the planning for fire safety and building safety.

Computer Skills:
ArcMap 10.2.2

PCI Geomatics

3 Visual Basic.NET, JavaScript, Python

MS Office Suite

AutoCAD

CorelCAD, CorelDraw